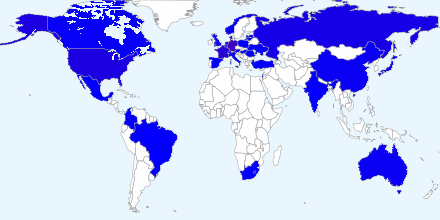 Global response to the Slow Media Manifesto
Grafische Darstellung der globalen Resonanz auf das Slow Media Manifest in bis dato 28 Ländern. Grade in sich schnell entwickelnden Ländern sucht man nach neuen Kulturtechniken und einer neuen Art des Umgangs miteinander und mit der Technik.
+ + +
Börsenblatt – Wochenmagazin für den Deutschen Buchhandel: "Buchhandel im Wandel: Der Weg entsteht beim Gehen" 06.03.2013 Rezension der Keynote zu Slow Media und die Zukunft des Buchhandels.
Berliner Morgenpost: "Internetportal präsentiert Geheimtipps in der Region" 28.03.13 (Slow Media als Medien-Bewertungskriterium)
Vinsyl: "Embusc@dé' (#3) – Attention c'est slow !" In: L'embusc@de webzine, 17 février 2013 (Frankreich)
Bruce Sterling in WIRED on The Declaration of Liquid Culture (Blumtritt/David/Köhler): "this latest Teutono-Californian slow-media memetic-turn tech-art manifesto"  (18. 02.2013) (here's his reposting of the Slow Media Manifesto: http://www.wired.com/beyond_the_beyond/2010/06/the-slow-media-manifesto/
+
Slow Media auf der Konferenz der Anglia Ruskin University, Cambridge, England: "Fast/Slow: Intensifications of Cinematic Speed".
"In response, a set of 'slow' cultural practices have emerged – the Slow Food Movement, the Slow Media Manifesto, The Idler Academy, or the recent 'A/V Festival: As Slow as Possible' – which figure slowness as perhaps the emblematic mode of resistance for our time."
+

"Slow Media"-Artikel in der französischsprachigen Online-Enzyklopädie Wikipedia: http://fr.wikipedia.org/wiki/Slow_Media (Frankreich)
Kaushal Trivedi: Disruption And Dr. Swamy. In: http://kaushaltrivedi.blogspot.in/2012/11/disruption-and-dr-swamy.html November 13th, 2012. (India)
«Медленные медиа». In: http://gorart.ru/index.php/content/it-news-menu/177-medlennie-mesia-part1 (mit weiterer russischer Übesetzung des Manifests)
Alexander Galloway: Web 3.0: Cumpatare, tovarasi, cumpatare! In: Amanole, 10. Oktober 2012 (rumänischer Beitrag, der Autor ist aber associate professor in the Department of Media, Culture, and Communication at New York University)
Jürgen Vielmeier: Feodo will Crowdfunding für Journalismus: "Redaktionen befinden sich in einem Hamsterrad". In: Basic Thinking, 9. Oktober 2012. Bericht über die Gründung des Journalismus-Portals Feodo via Crowfunding. Aufgabe der Journalismus-Plattform ist, neue Möglichkeitsräume für  qualitativen Journalismus zu schaffen: "Ziel soll es sein, "Slow Media" zu fördern". "
Slow Media und Entschleunigung auf eine kolumbianischen Konferenz zur Zukunft der Kommunikation: "ConCom inicia su primer ciclo con Alejandro Barranquero y el Slow Media". Auftakt der Reihe "Conversemos de Comunicación" (ConCom) an der Universidad del Norte, in Barranquilla, Kolumbien. Ankündigung hier und Konferenzdokumentation da. (Kolumbien)
Der Tagesspiegel über das Slow Media Institut. Armin Lehmann: "Beherrscht uns das Internet?" In: Der Tagesspiegel, Sonntag, 16. September 2012. S. 4-5.
Reposted thread on "monome"-community: slow media manifesto
Slow Media auf dem Lehrplan des Department of Communication Studies "Alternative Media" der Wilfried Laurier University, Waterloo, Ontario (Kanada). Studenten müssen nach Auseinandersetzung mit der Theorie ein "Slow Media" Projekt erstellen.
Bluemove Carsharing Madrid: Slow food y slow media: la lentitud como movimiento (in: Compartiendo la Cuidad, 5. September 2012) Spanien
"Le Slow Média: vers une consommation plus saine des médias", in: escanning,
Saint-Francis Tohlang: "Slowareness" (in: Flux Trends, 03. July 2012, South Africa)
Thilo Specht: "Social Media machen dumm – in Echtzeit" ( in: Cluetrain PR, 21. 06. 2012)
Joe Grobelny: "The new passivity" (in: All these birds with teeth, USA, 17.05.2012)
Martin Recke: "Post-digitale Monster" (in: Fischmarkt. Ein Blog von SinnerSchrader, 23.04.2012)
Marco Settembrini di Novetre: "Neo-analog, post-digital oder total egal?" (in: F.A.Z., Deus ex Machina Blog, 19. 04.2012)
Jenny Weight: "Why I hate Manifestoes" (in: Geniwate.com, Australia, 26.03.2012)
Gunnar Sohn: "Wandel durch Tradition: Zwei Pioniere der Kommunikationstechnologie in Deutschland – Vom Blechkram zur Applikationswelt" (in: Neue Nachricht, 06.03.2012) (s.a. Marketing-Börse: "Wandel durch Tradition: Zwei Pioniere der Kommunikationstechnologie in Deutschland")
SumyNews.com:  це повільне медіа. Чому? Читайте маніфест (SumyNews.com, 06.02.2012, Ukraine)
"Beyond Slowness in the Cinematic Image". Ankündigung eines Symposiums der University of Nottingham NingBo China und der RMIT University am am 2. Juli 2012 in Melbourne, Australien.
"Following on from the Slow Media Manifesto of 2010 and the select material which has responded around its theoretical framework, there is now a growing area of research focused on the broader implications of slowness in digital media."
Frank Patalong: Jetzt mal ganz langsam… (in: Spiegel online, 01.02.2012)
Thomas Krüger: Wenn weniger mehr ist (in: VOCER, 01.02.2012)
w&v: Journalistik-Professor Weichert startet Medien-Portal "Vocer" (in: Werben & Verkaufen, 01.02.2012)
Elisabeth Jensen Halskov: Langtidsholdbar kommunikation – et nyt kommunikationsideal? (in: Bæredygtig kommunikation, 29. 01.2012)
Elisabeth Halskov Jensen: "Slow media og bæredygtighed – Go slow" (in: Kommunikationsforum, 18.01.2012, Dänemark)
慢媒十四點品質宣言 ── 慢、久、遠 ── 以慢制快 01.01.2012
"A Slow Publishing Manifesto" (in: Mercury Retrograde Press, Atlante, USA)
"Wir haben einen Nerv getroffen" Interview mit Sabria David. In: Börsenblatt 52, 22.12.2011, S. 16.
Elisabeth Halskov Jensen: Kommunikation er også kransekage og bling-bling (In: Kommunikationsforum, 28.12.2011, Dänemark)
Jennifer Rauch: "The Origin of Slow Media: Early Diffusion of a Cultural Innovation through Popular and Press Discourse, 2002-2010". In: Transformations, Issue No. 20 2011 — Slow Media (Australien).
Deborah N.N.: Sustainable Slow Stylish (17.12.2011, Kanada)
DESIGNDISCUSSION 31, Das Slow Media Manifest, 24.11.2011, Krefeld
Alan Clark, York St John University, York UK: You can't eat a BlackBerry In: "A Manifesto for Media Education"
Dossier: "Ralentir… Vite!" In: TerraEco N° 30, novembre 2011 (Frankreich).
Hannah Brazier: Slow Media / In considering honour (08.11.2011)
PRIX EUROPA:  Medienpreise:[...]In der Online-Kategorie siegt Slow Media Produktion aus Frankreich (29.10.2011)
Tobias Fischer: "Digitale Kultur: Slow Media" (in: BEAT,  24.10.2011)
Doris Priesching: "Jetzt ist Schluss mit der aufgeregten Quatscherei". Interview mit "Prix Europa" – Festivalleiterin Susanne Hoffmann (in: DerStandart.at, 18.10.2011)
The European Broadcasting Festival: PRIX EUROPA 2011 – Festival startet am Samstag mit Appell für "Slow Media" (20.10.2011)
Hektor Haarkötter: Aufruf zu "Slow Media" (in: antimedien.de, 16.09.2011)
Chris Huang:  快时代的慢读者——张立宪:阅读是用时间熬成的 (Win the future, 13. September 2011) China
Marie Tarteret: "Le slow journalisme au secours du format long". In: Le blog-atelier de l'ASJ Tours (12.09.2011), Frankreich
Кристина Тригуб: Slow Media – новая философия в журналистике (mit russischer Übersetzung des Manifests)
Das Slow Media Manifesto im Curriculum (Herbst 2011) des Rensselaer Polytechnic Institute (Troy, New York, USA): Week Three – Sept. 12 Topic: Discourses and Manifestos of the Avant-Garde Leseliste: Manifestos of Futurism, Dada, Surrealism, Constructivism, Bauhaus, Situationism and Slow Media Manifesto.
Sumy News Media Group: Концептуальність (Absichtserklärung sich in der eigenen Arbeit Slow Media verpflichtet zu fühlen, mit ukrainischer Übersetzung des Manifests) Ukraine
Silke Weber/Lisa Goldmann: Entschleunigt euch! Journalismus-Diskussion (Der Tagesspiegel, 27. 08. 2011)
Carolin Neumann: Interview zu Slow Media: "Es gibt mehr als Papier oder Pixel" (Digitalmediawomen, 14.07.2011)
Suchlauf nach der russischen Transkription der Manifest-Autoren-Namen: "Бенедикт Кёлер, Сабрия Дэвид и Йорг Блумтритт"
Will Wlizlo: In search of Slow Media, 13. Juli 2011. In: UTNE, the best of alternative press (Minneapolis, US)
Frank Rozendaal: Slow media: de wegwerpmedia voorbij (26. Juli 2011, frankrozendaal.nl) Niederlande
Jotta, London, UK, Exploring Collaboration in Contemporary Art and Design  The Rise of the Digital Scrapbook Culture 24. Mai 2011 (also here: http://www.theloungegroup.com/the-rise-of-the-digital-scrapbook-culture/)
Кристина Тригуб: Slow Media – новая философия в журналистике (http://1mgimo.ru/tails/show/24/) Russland
Tina Klopp: "Das Internet ist gut für Improvisationen" Interview mit Sabria David ( ZEIT online, 5. Mai 2011)
Zancepen: Manifestos, some inspiring examples and how they relate to contemporary media making (Zancepen's Blog, 4. Mai 2011, USA)
冯宇: 快速兴起的慢媒体 (http://finance.sina.com.cn, 30.04.2011) China
Marie-Claude Ducas: "Les optimistes ralentissent !" (27.04.2011), Frankreich
Jérémie Larrieu: Slow Info, l'info à flux détendus (In: Culturebulences, 29. März 2011) Frankreich
Sabine Blanc: Quand l'internet se manifeste (OWNI digital journalism, le 11 mars 2011) Frankreich
RR: Slow Media: Aufmerksamkeit statt Zersteuung. Ze!tpunkt (für intelligente Optimistinnen und konstruktive Skeptiker), März/April 2011, S. 26. Schweiz
重新发现"慢"——慢媒体 (Douban, 24.02.2011) China
W co się (nie) bawić: …But That Was [Yesterday]. Altergranie, louvette, 3. Januar 2011 (Slow Media als Parameter bei polnischer Games-Rezension) Polen
Greenpeace Magazin 1/2011: Slow. Ein Plädoyer für mehr Langsamkeit. Rubrik "Personalien". S. 9. (online)
Carmen Molitor: Das Ende des rasenden Reporters. Titelthema: "Nachhaltigkeit im Journalismus" (Journal des Deutschen Journalisten-Verbands NRW, Journal 6/10)
Arnd Zickgraf: "Die Neuentdeckung der Langsamkeit – Slow Media" (goethe.de, Internetportal des Goethe-Institutes, Januar 2011) ("The rediscovery of slowness: Slow Media", english version) ("重新发现"慢"——慢媒体 ", chinesische Version) (chilenische Version Slow Media: El redescubrimiento de la lentitud) (arabische Version Ägypten: http://www.goethe.de/ins/eg/kai/kul/mag/med/ar7049870.htm, Libanon: http://www.goethe.de/ins/lb/bei/wis/med/ar7049870.htm, Golf Region: http://www.goethe.de/ins/ae/abu/wis/med/ar7049870.htm) (ukrainische Version: http://www.goethe.de/ins/ua/kie/wis/sbi/dig/uk7049870.htm) (brasilianische Version: http://www.goethe.de/ins/br/lp/kul/dub/med/pt7049870.htm)
TerraEco: "Les 100 qui vont changer le monde en 2011″ (Terra Economica N° 21, janvier 2011 (Slow Media unter dem Kapitel "Ralentir") Frankreich
Marie-Claude Ducas: Est-ce en 2011 que nous allons finalement ralentir? (Le blogue de Marie-Claude Ducas, 14. Januar 2011) Frankreich
Nanette Hoogslag: Slow (resaerch in editorial design, NL, UK), 11. Januar 2011
סלואו מדיה (l, 10.01.2011) Israel
Devora Rogers: "Slow Media" asks quality over quantity. Interview with Joerg Blumtritt. (Future of Media. IPG Lab Emerging Media Blog http://blog.ipglab.com, New York, USA, 15.12.2010)
Claudine Girod: Contre l'info low cost, vive la "slow info"! (Le Courrier, Quotidien suisse et indépendent, 27. November 2010) Siehe auch in: Blogger without Borders (http://bloggerswithoutborders.wordpress.com/slow-info/). Frankreich
Jendoubaz: La slow information. In: Le blog de la Licence professionelle Journalisme, 28. November 2010. Frankreich
presseverein.ch: Alles Schrott oder was? (ZPV, Zürcher Presseverein, 22. November 2010) Schweiz
Joel Hughes: Tools for Reading, wRiting and aRithmetic. In: Joel Hughes's Blog20.09.2010)
Johannes Neufeld: Schon mal Medien gefastet? (Frankfurter Buchmesse Blog, 9.1.2010)
Philip Barclay: Slow media et productivité (philipbarclay.com, 14.9.2010)
Gunnar Sohn: Slow Media und was Zeitungsverlage von Marshall McLuhan lernen könnten (13.9.2010)
Alina Sequence (DJ): Манифест "Медленные медиа" от немецких исследователей (10.09.2010, Moskau, Russland), also here.
Mateja Rot: The Dark Side of the Free and Open – Interview with Geert Lovink (Artwords Magazine, 4.9.2010) Niederlande
Dirk Schneider: Digitales Fasten – das Experiment (dw-world.de, 25.8.2010)
Vicente Jimenez (director adjunto de El País) zu " El manifiesto Slow Media" (in: El Pais/Eskup, 18.08.2010, Spanien)
Kommentar zu "Digitális böjt – ki lehet-e bírni fél évig internet nélkül?" (in: Mandiner Blog, 28. 07.2010) Ungarn
Mark Cridge: Go slow (muck and brass, 22. Juli 2010)
Oliver Herold: Slow Media (fixmr.de, 31.7.2010)
Martin Meyer-Gossner: Die 3-Säulen-Strategie: Erst Marke, dann Mensch, oder andersrum? (thestrategyweb.com, 26.7.2010)
Лаборатория гуманитарных технологий: Медленные медиа. Манифест Center for Human Technologies, Moskau, (10.07.2010) Russland
「スロー」なメディアを提唱する マニフェスト (studiovoice.jp) Japan
Ozgur Uckan: Debatte im Kommenarfeld zu The Slow Media Manifesto (02.06.2020), Türkei
Steven Levy ran a Slow Media session at Foo. "The Slow Media Manifesto — Slow Media inspire, continuously affect the users' thoughts and actions and are still perceptible years later."  Nat Torkington: Reflective Spaces, Slow Media, Chinese Genomics, and a Code Blog (O'Reilly Radar, 28. 06.2010) USA
Olia: Slow Media Slow Food (in: Car Metaphors, 28.06.2010 (Merz Akademie, Stuttgart))
Медленные медиа. Манифест (10.07.2010) Russland
Lynn V. Marentette: Slow Media Manifesto (28. Juni 2010)
Rhys Turner: The Slow Media Manifesto (Geert Lovink) via nettime.org (27. Jui 2010), Australien
Marketing Media Review: Медленные медиа (mmr.net.ua, 05.07.2010) Russland
Частный Корреспондент: Медленные медиа. Тише едешь, дальше будешь. (chaskor.ru, 02.07.2010) Russland
Ian Bogost: Slow Media – A manifesto and a blog (bogost.com, 01.07.2010)
Dan Wagstaff: The Slow Media Manifesto (The Casual Optimist, 30.06.2010)
Chris Gilbey: Slow Media (perceptric, Australien, 30.06.2010)
Slow Media Manifesto (Near Future Laboratory, 29.06.2010)
Roger Habitat: Slow Media? (MilanoX, 29.06.2010) Italien
Jörg Benner: Die Mär vom Multitasking (Texthilfe, 29.06.2010)
Roland Legrand: Immersive media experiences, from chat and video to augmented reality (MixedRealities, also here, 28.06.2010) Belgien
Joe Grobelny: Slowness, Silence, Plants, and why I took Facebook off of my Iphone (all these birds with teeth, USA, 28.06.2010)
Bruce Sterling: The Slow Media Manifesto (Beyond the Beyond, 28.06.2010) USA
olia: Slow Media Slow Food (Contemporary Home Computing, 28.06.2010)
Wieland Freund: Entschleunigt die Philosophen (Welt, 26.06.2010)
Глеб Давыдов: По поводу Медленных медиа. Соответствуют ли Перемены.ру этой концепции? In: Change Blog, 2. Juli 2010. Russland
Geert Lovink: The Slow Media Manifesto (posted on mailinglist nettime)  (24. Juni 2010)
Marko Beger: Slow Media. Nachhaltigkeit im Medienbereich (Dresdner Pressepost, Juni 2010, S. 7)
Patrick Kelly: The Slow Media Manifesto (in: Slow Media, The blog for the world's first PhD in Slow Media, 24.05.2010, Melbourne) Australien
Ulrike Lehmann: Der Widerstand der Slow Media Bewegung (WDR5, 22.05.2010, Podcast)
Torsten Casimir: Dem Buch die Hauptrolle (Börsenblatt.net, 20.05.2010)
Anja Dreschke: Die Gnade der Unerreichbarkeit. Wie neue Medien unser Leben beschleunigen (WDR5 Funkhaus Wallrafplatz, 15.05.2010, Podcast)
Daniel Müller: Slow Media – Der Dritte Weg (DRADIO Wissen, 14.05.2010)
Daniel Müller: Slow Media – Manifest für langsame Medien (Deutschlandradio, 11.05.2010)
"Salto immortale des Buches" (Börsenblatt.net, Online-Magazin für den Deutschen Buchhandel, 11.05.2010)
Transformations Journal: Slow Media (Call for Paper, 05.05.2010, Australia)
Christine Svensen: Trett av nett? (nrk, Lytt til Kurer 172, 21.4.2010, Interview Runkfunk Norwegen)
Patrick Beuth: Manifest (Frankfurter Rundschau, 21.4.2010)
Collard, Nathalie. "Slow Media: One Medium at a Time." La Presse (20 April 2010). Kanada
Catharina Hettiger: Trends der Digitalen Gesellschaft (Mainpost, 19.4.2010)
"Eine digitale Form der Demenz." Steffen Büffel über Slow Media auf wdr.de (WDR, 18.4.2010)
re:publica: Mit Jeff Jarvis in die Sauna (W&V, 17.4.2010)
Alexander Rausch: re:publica 2010 (mindlounge, 17.4.2010)
re:publica – Ende der digitalen Nabelschau (Mainpost, 16.4.2010)
Slow Down, You Move Too Fast (Dissentertainment, 29.3.2010)
Buddenberg, Roger. "Backlash against Digital Chatter." Omaha World-Herald (25 Mar. 2010).
kth: Slow Media – Renaissance des Langsamen (Darmstädter Echo, 20.3.2010)
Silje Rognsvåg: Ny trend: langsomme medier (fom.no, 17.3.2010) Norwegen
Franziska Bluhm: Slow Media (Die Sendung mit dem Internet / Antenne Düsseldorf / RP-Online, 15.3.2010)
Kari Gåsvatn: Mediefaste fram mot påske (Nationen, 15.3.2010) Norwegen
TRANSCENDING THE DIGITAL VORTEX: WHY SLOWING DOWN IS IMPORTANT IN A HIGH-SPEED AGE (digitallynumb, 11.3.2010, New York, USA)
Richard Kehl: Slow Media. In der Tiefe liegt die Kraft (Uni.de, 9.3.2010)
Slow Media statt Twitter (OPACC-Blog, 9.3.2010)
Tobias Kurfer: Auf Mediendiät. Wenn Internet-Junkies die Vorzüge von Zeitung und Radio entdecken (Berliner Zeitung, 8.3.2010)
Online-Junkies entdecken Vorzüge der Zeitung neu. "Slow Media Diet" ist im Trend (Persoenlich.com, 8.3.2010)
Br. Richard Maria Kuchenbuch: Wird das Internet benediktinisch? Benediktinische Parallelen zur Internetbewegung Slow Media (Abtei Münsterschwarzach, 5.3.2010)
Abschalten statt Overkill? Der neue Trend: Slow Media. (Ostsee Zeitung, 5.3.2010)
Thomas Leblanc: "Haute résolution : le slow media peut-il sauver ma curiosité?" (04.03.2010), Kanada
CeBIT 2010 – Slow Media als Gegenbewegung? (HR-info, 4.3.2010)
Martin Meyer-Gossner: Die Zeit der Manifeste – Manie, Hypie oder Faszination? (The Strategy Web, 2.3.2010)
Michael Kremmel: Zorn, Palaver, Lügen: Manifeste zum Medienwandel (Der Standard, 2.3.2010) Österreich
Joachim Vögele: Buzz-müde oder: die Sehnsucht nach Entschleunigung (Joachim Vögeles Notizblog, 2. März 2010)
Elke Wittich: Wer oder was ist der "mündige Internetnutzer"? (Konkret, 02/2010)
Entschleunigung im Internet: Die Bewegung "Slow Media" (B5 Aktuell, 28.2.2010)
Katharina Olbrisch: Slow Media: Auf der Insel der bewussten Langsamkeit (businesson, 25.2.2010)
Slow Media: eure Faxe (1Live, 25.2.2010)
Libertà di Stampa diritto all'Informazione: Slow Media Manifest. Il media lenti… (in: LSDI, 24. 02.2010) Italien
Jürgen Stüber: Tempolimit (Welt Online, 24.2.2010)
Slow Media Manifest (lsdi, 24.2.2010)
Terry von Bibra: Yahoo! kommentiert: Slow Media: Manchmal ist weniger einfach mehr (Yahoo! Pressemitteilung, 23.2.2010)
Sophie Burkhardt: Online-Fasten: Die Entdeckung der digitalen Langsamkeit. Slow Media – Wenn Internet-User entschleunigen (heute.de, 17.2.2010)
Jana Herwig: Twitter-Fasten: Ich tu's (aber nicht für Schirrmacher und Kluge) (digion, 12.2.2010)
Nachhaltigkeitsbeirat Thüringen über das Slow Media Manifest (Nachhaltigkeits Newsletter, 10.2.2010)
Roland Kühl-v.Puttkamer: Immer schneller, höher, weiter. Und jetzt Slow Media? (Werbeblogger, 8.2.2010)
רוני שני    סיכום השבוע בעולם הטכנולוגיה: קשיי קליטה (((calcalist, 07.02.2010, Israel)
Christian Holst: Blick in die Glaskugel: Slow Media (Kulturblogger, 23.1.2010)
Dirk Rumberg: "Slow Media" und der Wunsch nach Qualität und Weisheit (BuchMarkt, 20.1.2010)
Jean-Michel Berg: Rascheln, Knittern, Knüllen (Süddeutsche Zeitung, 11.1.2010)
Meike Laaff: Interview: Das Slow Media Manifest (Blogpiloten, 8.1.2010)
Michael Schubert: Slow Media als einen Beitrag zur höheren Kundenorientierung (media-Treff.de, 5.1.2010)
Christine Lübbers: Slow Media: das diffuse Manifest (Meedia, 5.1.2010)
Tanja Gabler: Blogspotting: Slow Media (Notizblog, 4.1.2010)
Marcus Bösch: Dieses Slow Media Manifest (Marcus Bösch, 3.1.2010)
Slow Media: Manifest für "langsame Medien" (gulli.com, 3.1.2010)
Send to Kindle
Bitte hier den Kommentar eingeben
Bitte bleiben Sie höflich. Sie können diese HTML tags verwenden: STRONG, A, BLOCKQUOTE, CODE